Canada's largest and most comprehensive dance program.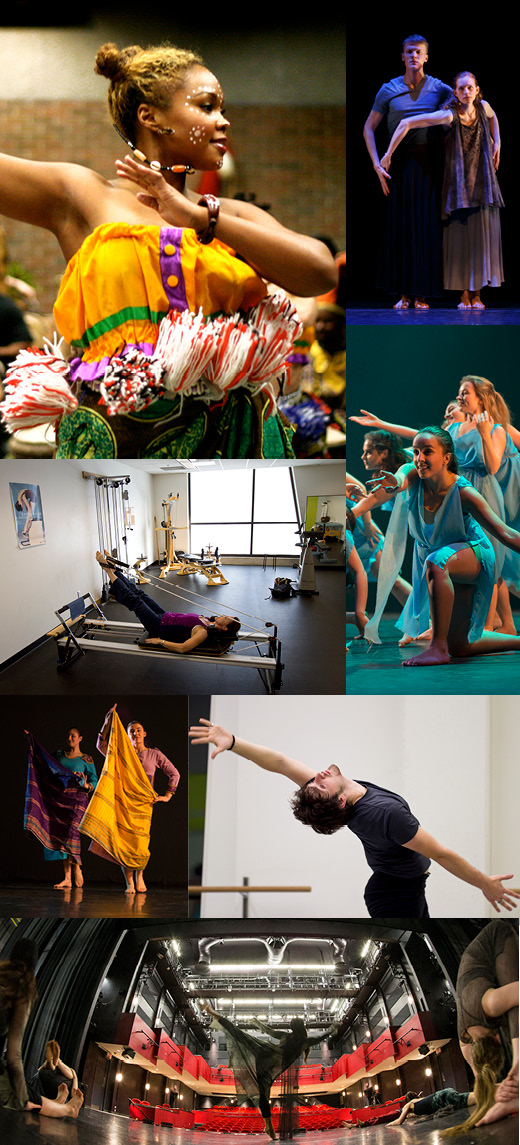 ABOUT
Dance
We prepare dance professionals who are strong, innovative, articulate and thoughtful-who are engaged leaders in diverse communities.
From the beginning, the vision of the York University Dance Department has been to produce graduates who make important contributions to the field in all areas, including performance, choreography, teaching, writing, and research. To advance this mandate, the department has regularly revised and expanded its curriculum since opening its doors in September 1970. In that first-year, under the guidance of the founding Chair, Grant Strate, five faculty members welcomed the inaugural class of 32 majors. Not long after, in 1976, the department achieved another milestone when it launched Canada's first master's program in dance.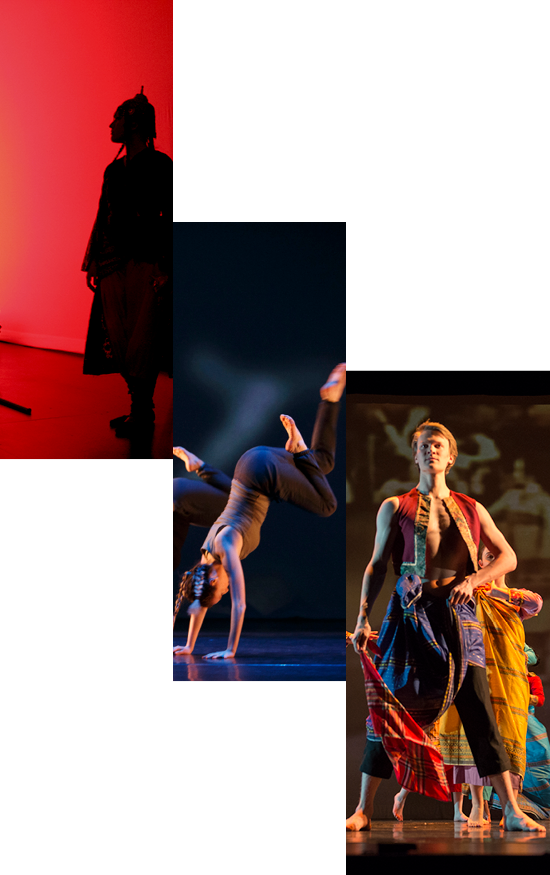 Fast forward to today and the department of Dance also has a PhD and an MFA program. The field of Dance has broadened in the past 50 years to include technological advances that have pushed the field to new innovations in education, creation and dissemination. We have refined our curriculum offerings to respond to the current contemporary climate and to offer a spectrum of study options that will serve our students for the future. Our alumni represent the full range of active dance professionals––creative and performing artists, scholars, educators and administrators––who contribute significantly to diverse cultural scenes locally, nationally and internationally.
The faculty members in York's Department of Dance are committed to student-centered, experiential learning. Our courses are designed with the diversity of our student population in mind, and students' multiple ways of learning. We put knowledge into action, providing students with studio, lecture, and seminar experiences that will facilitate deep embodied and intellectual learning. Our mission is to inspire, develop and enhance creative and critical thinking.
Our curriculum is focused on preparing students for a range of dance-related professions and the step-by-step building of the transferable skills they will need to succeed. In addition to studio dance technique which we view as the basis of all our undergraduate degrees, we also train our students in critical thinking and writing. Such skills will provide a strong foundation for whatever career graduates may choose. Above all else, we aim to inspire leadership skills in our students, so they go out into the world prepared to be active innovators in the global field of dance.
OUR CREATIVE SPACES
McLean Performance Studio
HIGHLIGHTS
A Brief History
1970
The Dance Department is founded by Grant Strate.
1976
The Department of Dance establishes the first Master's program in Dance in Canada.
1988
The York Dance Ensemble (YDE) is founded by Donna Krasnow and debuts with a staging of José Limón's
A Choreographic Offering
. Current YDE Artistic Director Susan Lee was in this first ensemble.
2005
The Accolade buildings (East and West) are built, greatly expanding the Faculty and creating the facilities in which the Department of Dance now resides.
2015
The Faculty of Fine Arts changes its name to the School of the Arts, Media, Performance & Design (AMPD).
2016
Theatre at York, the YDE, and the Digital Media Program collaborate to produce a multimedia performance of Aristophes' The Birds directed by Yvette Nolan.
2016
Dance Student's Association (DSA) launches Bloom, a showcase of student work.
FACULTY AND STAFF
People of Dance
Professor Emeritus
Carol Anderson
Professor Emerita
Anna Blewchamp
Professor
Norma Sue Fisher-Stitt
Associate Professor
Mary Fogarty
Professor Emeritus
Donna Krasnow
Associate Professor
William Mackwood
Professor Emeritus
Mary-Elizabeth Manley
Associate Professor
Danielle Robinson
Professor Emerita
Barbara Sellers-Young
Professor Emeritus
Holly Small
Professor Emeritus
Claire Wootten
Assistant Professor
Bridget Cauthery
Assistant Professor
Catherine Glasser
Course Director
Helen Jones
Course Director
Terril Maguire
Course Director
Blake Martin
Course Director
Tracey Norman
Course Director
John Ottmann
Course Director
Lisa Sandlos
Course Director
Julia Sasso
Course Director
Keiko Kitano Thomson
Associate Professor
Darcey Callison
Associate Professor
Susan Cash
Associate Professor
Modesto Mawulolo Amegago
Professor Emeritus
Karen Bowes-Sewell
Professor Emeritus
Selma Odom
Professor Emeritus
Mary Jane Warner
Assistant Professor
Freya Björg Olafson
Assistant Professor
Susan Lee
Contract Faculty
Shawn Boulet
Contract Faculty
Tanya Berg
Contract Faculty
Nikolaos Markakis
Contract Faculty
Wesley McKenzie
Contract Faculty
Evadne Kelly
Contract Faculty
Jessica Runge
DANCE AT YORK STUDENTS
Getting Involved