Dance Program Video Description Transcript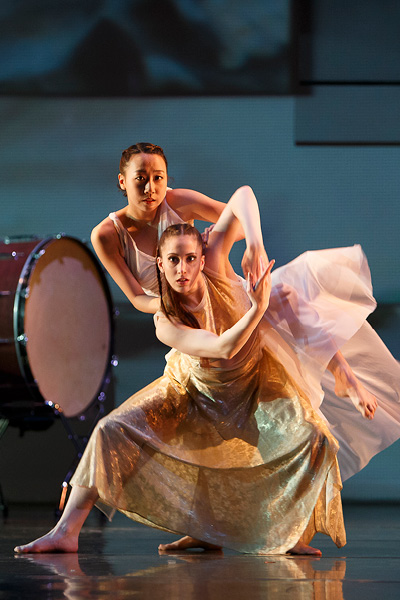 OVERVIEW
Dance
Designed to inspire, develop and enhance creative and critical moving and thinking, AMPD's Department of Dance curriculum balances physical and intellectual learning. Students in Canada's largest and most comprehensive dance program graduate as innovative, thoughtful and articulate dance professionals who are ready to be engaged leaders in diverse communities.
Dance students take a common first-year and then branch into one of two streams according to their interests and goals. Upper-year students may audition to join the department's resident company, the York Dance Ensemble. Students also have the opportunity to gain valuable training in lighting design and dance production, to embrace emerging media and integrate technology into their dance practices, and to extend their professional experience through field placements, collaborative research and guest teaching.
HIGHLIGHTS
Top 6 reasons to apply
First and most comprehensive dance program in Canada
The foundation year introduces multi-facetted opportunities in dance
Two streams to choose from in second- to fourth-year
Multiple pathways to choose from in years three and four
State-of-the-art studio and performance facilities
Supportive environment that fosters optimal learning and development
JOINT DIPLOMA AND DEGREE
Affiliated Programs
The Department of Dance offers programs designed to meet the professional interests of incoming students. We have a number of transfer credit agreements with Professional Training institutions in Canada.
Dance BFA students interested in a ballet-focused studio teaching career can consider our five-year Joint Diploma/Degree Program with Canada's National Ballet School. In this program, Dance majors combine study toward their Honours BFA in Dance with the Teacher Training Program at Canada's National Ballet School (NBS). The program's five years of study are divided into two possible routes, Option A and Option B:
Option A
Three years in the York University Department of Dance, followed by two years at NBS. Students wishing to pursue this program are advised to declare their interest during their first year of study at York University, and to complete their audition for the National Ballet School at the end of their first year.
Once accepted by NBS, students in this Joint Program receive specialized advising so that all the graduation requirements for York are met during the three years. Prior to entering the NBS portion of the program, students are expected to have successfully completed their Royal Academy of Dance or Cecchetti Elementary Examination.
Option B
Three years at NBS, followed by two years in the York University Department of Dance. In this case a York University Department of Dance audition is not required for entry. Please contact the Dance Department for further information, dance@yorku.ca.
The Department of Dance offers simplified, guaranteed transfer credit to qualified students coming from these professional institutions:
Professional Training Programs – Dance Arts Institute
The School of Dance Contemporary Programme, Ottawa
Sampradaya Dance Academy, Mississauga
Holland College, Charlottetown, PEI
Students who successfully complete the Programs at these institutions, with a minimum B standing (6.0 GPA) are eligible to apply for admission to the York BFA (Hons) Dance Program. After successful application to York University, students admitted will have between 50 – 60 credits (depending on the institution) from their training applied towards their 120-credit BFA (Hons) degree. Each joint program will have a specific dance course requirements as per the agreement with the school. Please contact the Dance Department for further information, dance@yorku.ca.
Have Questions?
WE HAVE ANSWERS
The York U Dance Auditions take place throughout a full morning and are normally made up a few different activities. There is a welcome reception for students and parents, a warmup session for the auditioning students, an observation class or demonstration (where prospective students can watch current students dance), the audition class (all the students auditioning that day participate in a class as a group for a number of faculty assessors), and then a Q&A session. Auditioning students do not need to prepare solos or anything in advance, they are simply asked to participate in the various activities and styles during the class.
Following the common first-year experience, students complete their studies in one of the two specialized streams. In April, faculty assist first-year BFA students in making the stream choice by assessing area strengths demonstrated during the first two academic terms of study (i.e., Fall/Winter). For more information visit
https://dance.ampd.yorku.ca/bfa/